The Federal Government Nigeria has applauded the Federal Airports Authority of Nigeria (FAAN) for receiving Airport Service Quality Awards from the Airports Council International, an industry recognition of the best Airports in the world to Nnamdi Azikiwe Airport by size and region (5 to 15 million passengers per year in Africa)  amongst over three Hundred Airports worldwide.
The National Coordinator further commended the Federal Airports Authority of Nigeria (FAAN) in her efforts to ensure efficient services that would prolong very strong and friendly customer service experiences across all the airports.
She stated that, this award is coming in timely in line, with the comments given to SERVICOM as a lead Agency for improved service delivery initiatives through the platform of Open Government Partnership (OGP).
This commendation was made when the National Coordinator/CEO SERVICOM, Mrs Nnenna Akajemeli paid an Open Government Partnership (OGP) advocacy visit to the Federal Airports Authority of Nigeria (FAAN), in Abuja.
The National Coordinator said that the Open Government Partnership (OGP) is a global coalition of reformers from government and civil society who diligently work together to make government more transparent, participatory and accountable in other to truly serve and empower citizens.
According to her, this falls squarely within the SERVICOM mandate, consequently making the improved service delivery thematic area of commitment 15 and 16 to be included in NAPII with SERVICOM as the lead Agency, meanwhile the fundamental objective of Mr. President signing into the OGP commitments is to ensure full implementation of the process to fight corruption, ensure accountability as wells as providing improved service delivery to all Nigerians.
Mrs Nnenna further stated that, due to the centrality and importance of the Federal Airports Authority's services to the citizens, the president has approved that the organization should constitute the first of the pilot project on the delivery on NAP II Commitment 15 and 16.
Furthermore, while speaking on the importance of the FAAN services to the citizens, Mrs. Nnenna Akajemeli told the Managing Director that SERVICOM has selected some service windows to work with, in which she made mention of the Ministry of Aviation (Air Transport Management Department)
The Federal Airports Authority (FAAN) with Directorates/Departments such as: Directorate of Airport Operations, Department of legal Services/Board Secretariat, Environmental Services Department, Revenue/Cargo Directorate, Directorate of Aviation Security, SERVICOM Department, Information and communication Technology Department, Airport Planning and Technical Service Department and the Directorate of finance and Accounts.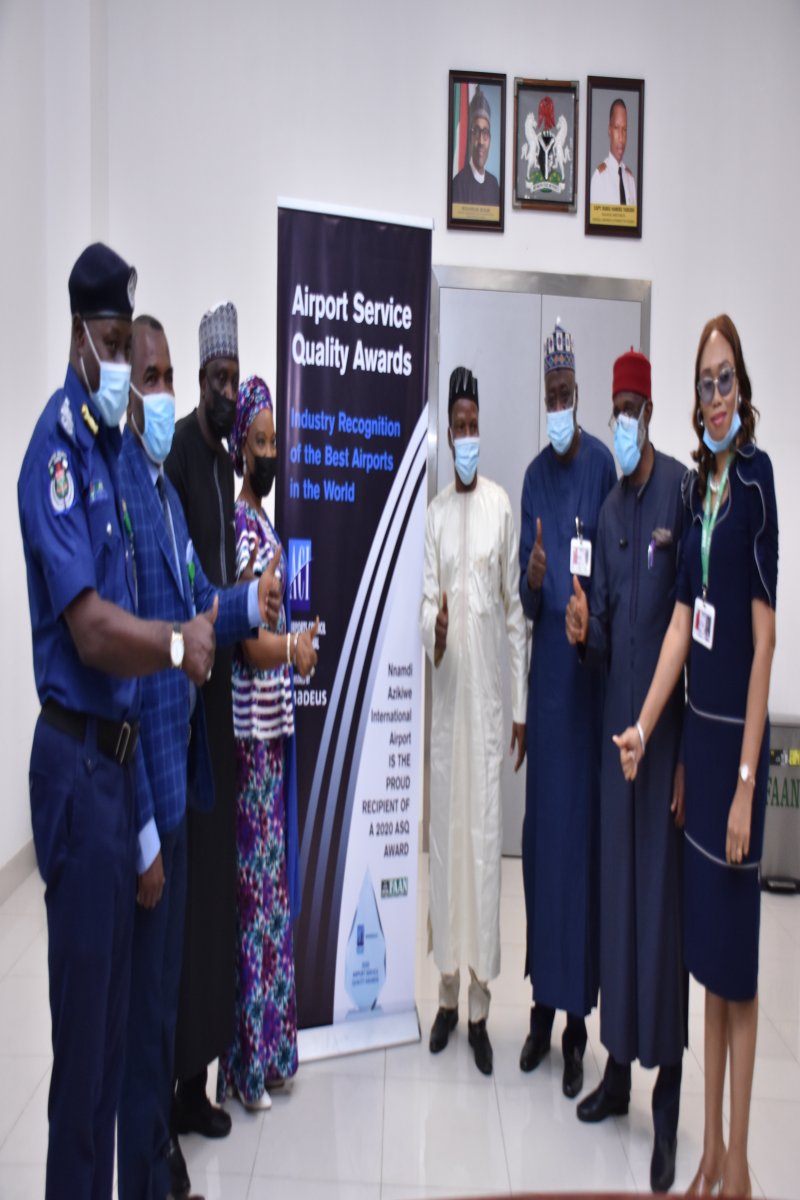 She added that, SERVICOM would implement strategies while working as partners with FAAN in order for them to identify and nominate transformers/champions of reformers that would ensure service standards performance implementation, monitoring and reporting with terms of reference.
Akajemeli further stated that, the committee members for these implementation are representatives from the Ministry of Aviation (Air Transport Management), the FAAN selected Directorates/Departments, and the six selected Airports which amongst them include the Murtala Mohammed International Airport, Lagos.
However, the Coordinator urged Chief Executive Officers of Ministry Departments and Agencies to support technical team conducting service charter performance monitoring activities (Internal data gathering and analysis) and also carry out Bi-weekly review meetings with performance Monitoring and Reporting Teams with SERVICOM to review progress and validate improvements made.
In her words, ''SERVICOM would be working with developmental Partners such as the DFID, PERL and others, for technical and financial support of the pilot project'' she stated.
Nevertheless, Mrs. Nnenna also made reference to the Role of Non-State Actors/CSO, in which she stressed out that their main function is to seek regular information gathering on government activities and operations, attend public hearings (SERVICOM Bill), conduct citizen's satisfaction surveys and provide feedbacks on service delivery from public institutions.
Mrs. Akajemeli spoke on the next steps which is to receive reports from SERVICOM on the outcome of the meetings, compose service improvement Reform Champions/ Technical Team (MSU and relevant Technical Departments), she also said '' SERVICOM Office will invite the Reform Champions Technical Team for a Service Charter Development/Review Workshop and Articulate plans for driving service improvement further'' she added.
The National Coordinator said that Improving Service Delivery for citizens' satisfaction is hinged on implementing the outlined SERVICOM strategies with the MDAs as the wheels to derive continuous citizens focused service improvement, and this would foster Openness, inclusiveness and Co-creation in services delivered by MDAs that would translate to good governance.
In his welcome address, the Managing Director, Chief Executive Officer of the Federal Airports Authority of Nigeria, Captain Rabiu Hamisu Yadudu, Stated that FAAN is a Service Delivery Agency where services are rendered to customers effectively.
He further stated that, the visit would strengthen more collaboration and boost a robust working relationship with SERVICOM, to promote improved services to the Nigerian citizens. In his words '' when you hear from stakeholders you will not hear from social media platforms'' he stated.
Moreover, he pledged his commitment and support to the Open Government Partnership (OGP) initiatives of this administration.
Public Awareness Manager
Henrietta Okokon  (Mrs.)
https://servicom.gov.ng/wp-content/uploads/2021/04/DSC_9312-scaled.jpg
1707
2560
servicom
https://servicom.gov.ng/wp-content/uploads/2020/03/reduced-LOGO-1-300x266.png
servicom
2021-04-06 10:08:14
2021-04-06 10:14:29
THE FEDERAL GOVERNMENT APPLAUDS THE FEDERAL AIRPORTS AUTHOURITY OF NIGERIA