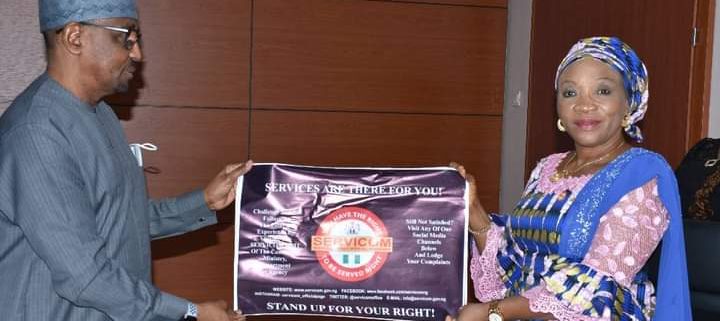 The National coordinator/CEO SERVICOM, Mrs Nnenna Akajemeli, has called for a stronger synergy with Ministries Departments and Agencies (MDAs) for improved service delivery processes in line with its mandate.
This call was made when Mrs Nnenna Akajemeli paid an advocacy visit to the Chief Executive officer, Nigerian Midstream and Downstream Petroleum Regulatory Authority (NMDPRA) in Abuja during the weekend.
The National Coordinator, Mrs Nnenna Akajemeli said that, the SERVICOM Unit is charged up with the responsibility to raise citizen's awareness and to deliver quality services to the Nigerian citizens.
In her words she said, ''Taking ownership of the process is key to sustaining the SERVICE delivery drive of this administration'' she noted.
She however called for the support of the Authority Chief Executive officer of the NMDPRA to carry out independent survey on customer's experience to collate feedback for service improvements in the agency.
Nevertheless, the Coordinator added that Management should further provide the SERVICOM Unit with the needed support and resources for service improvement work plan implementation by developing Service Charter in order to capture services of the new merger.
She further explained that the Charter is a strategic document that communicates the commitments of services provided by NMDPRA to its customers and MDA's operational tool that enshrines trust between Service-providers and Service-takers through their response to complaints and information to key stakeholders.
Furthermore, she urged the management of NMDPRA to strengthen the position of the SERVICOM Unit so as to regulate and monitor midstream and downstream operations all over the country.
She also pointed out that a framework for performance monitoring, self-assessments and surveys should be put in place to identify gaps for service improvements, adding that the SERVICOM Unit would be repositioned to function optimally there by ensuring that all citizens are served right.
In his welcome address, the Authority Chief Executive Officer Nigerian Midstream and Downstream Petroleum Regulatory Authority (NMDPRA), Mr Farouk Ahmed informed the National Coordinator that the business of the Agency cuts across all sectors in their retail outlets and they are sensitive in the manner in which they conduct businesses.
He further informed the National Coordinator that the Agency will harmonize their Service Charter into one, given the fact that the three Agencies where merged to become one, hence they need to change their impression and psyche in other for them to work as a team.
He further gave his commitment to work with the SERVICOM so as to bring ideas in the areas of improvements that would bring sustainable development and economic growth to the nation.
Henrietta Okokon (Mrs)
Public Awareness Manager
(SERVICOM)
https://servicom.gov.ng/wp-content/uploads/2022/01/FB_IMG_1642578451822.jpg
480
720
Mfon Iniunam
https://servicom.gov.ng/wp-content/uploads/2020/03/reduced-LOGO-1-300x266.png
Mfon Iniunam
2022-01-19 07:53:46
2022-01-19 07:53:46
SERVICOM CALLS FOR STRONGER SYNERGY WITH MDA'S FOR IMPROVED SERVICE DELIVERY