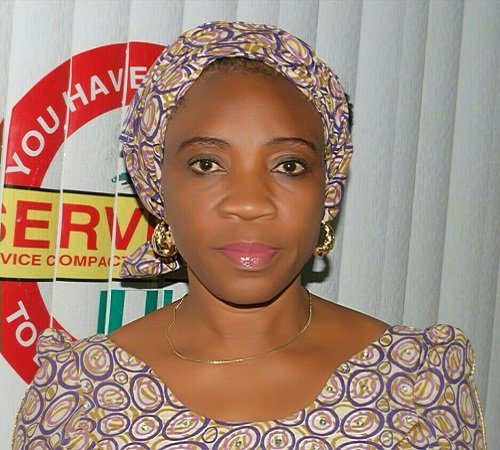 Mrs. Nnenna Akajemeli is the National Coordinator and Chief Executive Officer of SERVICOM Office, Presidency and hails from Orlu Local Government Area of Imo State. She was born into the family of Nze and Mrs. A.A. Nwosu of Umuna Orlu in 1965 at Port Harcourt, Rivers State, Nigeria.
She attended Federal Government Girls' College Abuloma, Rivers State (1982) and Federal Government College Rumola, Port Harcourt for her Lower 6th Form. She is a graduate of English and Literary Studies from University of Calabar (1987) and has obtained a Master Degree in English Literature from the University of Abuja (2007).
She joined the services of the Federal Government in 1989 as a Personnel Officer II with the National Directorate of Employment and rose to the position of an Assistant Chief Personnel Officer before her secondment to SERVICOM Office in year 2004 as one of its pioneer staff. She held key positions of Team lead, Head of Operations, Chief SERVICOM Officer and acted as National Coordinator SERVICOM from 2015 till her present appointment in April 2017.
Mrs Akajemeli has attended several Courses and Programmes and has obtained many certificates which include Certificate on Train the Trainer (SERVICOM Institute) 2007; Certificate in Management Consulting Essential (Institute of Management Consulting, UK) 2007; Certificate in Monitoring and Evaluation (RIPA International, UK) 2008; Executive Development Programme in Facilitating Effective Service Delivery in Nigeria (GMSI, UK) 2012;  Basic/Advanced MANDEV Certificate (CMD, Nigeria) 2017 and Certificate of Service Excellence Experience Exchange Programme for Senior Government Officials in Paris France, December 2018, Capacity Growth Development Exchange Programme for CEOs,Senior Goverment Officials Dubai ,November 2019. She is also ISO 9001:2015 Certified.
She is a devout Catholic, a Lady Knight of St John International with its supreme Headquarters in USA. She belongs to and serves in many societies in the church including National Women Organisations, St Judes Thaddeus and her basic Catholic State Community Association known as St Patricks Enugu, Anambra, Ebonyi Catholic Community of CKC Parish Kubwa, Abuja FCT.
She is happily married for 29 years to Sir Okwudili Akajemeli from Uli in Ihiala Local Government Area of Anambra State and is blessed with four children and three grandchildren.
A professional in her field of studies, she's competent, an achiever, an upright personality, she's a global icon who believes in global standards, she's passionate for service excellence, she's a good team lead, an astute crusader, a trailblazer, and a pathfinder.
She believes in fighting for the right of Nigerians who have been short-changed. She's an outstanding and accomplished administrator. A woman with great ideas, an exceptional principle and exemplary character.
She is well known as madam SERVICOM
Her hobbies include reading, cooking, Mediation, Strategic engagement with people, giving back to society and humanitarian services.