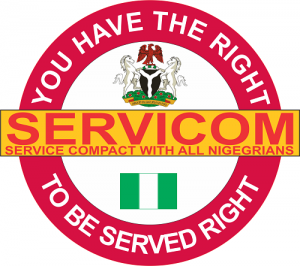 The Episode 99 of the SERVICOM help desk Radio programme Held on the 26th of November 2019 featured the National Insurance Commission (NAICOM). The National Coordinator /Chief Executive of SERVICOM, Mrs  Nnenna  Akajemeli, appreciated the Brekete Family and thanked  God for the support we get from human rights Radio, she appreciated all those rendering services in ministries, department and agencies and said those that are doing well should continue to do well, for ignoring customers ,this is an opportunity for them to improve.
The essence of government establishing an office to render service to customers that have expectations lets therefore work to meet that expectations. The NAICOM representatives, Mr Ibenaye Timileyemoye, Nodal Officer said, NAICOM stated as a department in the Federal Ministry of Finance before the former Military Head of State, Gen. Ibrahim Babangida set up National Supervisory Board but became National Insurance Commission through an act in 1999.
Our mandate, he said is to ensure the effective supervision and Administration Institution of Insurance Companies in Nigeria which are, institutions, brokers, lost adjuster and insurance agents. Our Mission is to be one of the leading regulators in the emergent market. The Act empowers NAICOM to set up a complaint bureau to address issues from policy stake holders, those who have problem with their Insurance Company can come to us and we take up their issue.
If anybody has an issue with an insurance company, we advise them to write their complaint to the commissioner of insurance. We advise policy holders that have issues with insurance companies to please write their complaint letters address to the Commissioner for Insurance NAICOM,  Ladoke  Akintola  Boulivard, Wuse2   Abuja.
One of the challenge we have is that, people don't know where they channel their complaint to, the prefer going to SERVICOM. It is only when we can't handle your problem that you go to SERVICOM he said.
Mr Rasak Salami, Spokes Person and Head, Commissioner for Insurance Directorate of NAICOM said one of their primary purpose is the protection of policy holders, this are people that go to the Insurance company to buy an Insurance product, we ensure that the contract you have entered with the insurance company is respected.
Insurance is about claims payment, when an insurance company fails to pay after you file a claim, report to us we will take it up from there that is why we have a complaint bureau unit that attends to complaints from all policy holders and insurance companies especially when individuals tries to defraud an insurance company by coming up with false claims.
When a Luxurious Bus company takes a comprehensive Motor Insurance policy, everybody is covered; the money is given to the insured who may now give to the passengers or their next of Kin since they have their manifest. The National Coordinator SERVICOM said there is a poll of funds made available by government for on-insured drivers please explain to the masses, Mr  Rasak replied that NAICOM is self- funded therefore  don't  get any money from the government, so there is no poll of funds anywhere from the federal government, the money we gave then was for hit and run victims.
We are a regulatory body he said, Comprehensive insurance is not made compulsory all over the world. We have third party insurance of 5,000 that gives you a cover of up to one million (1,000,000) and in the case of death, it is unlimited. NAICOM has always advised the public that when you are to take insurance cover, go to the insurance companies that sells it.
https://servicom.gov.ng/wp-content/uploads/2020/03/reduced-LOGO-1-300x266.png
266
300
servicom
https://servicom.gov.ng/wp-content/uploads/2020/03/reduced-LOGO-1-300x266.png
servicom
2020-03-02 14:02:53
2020-03-02 14:02:53
Highlight of Episode 99 of the SERVICOM Help Desk Radio Programme.