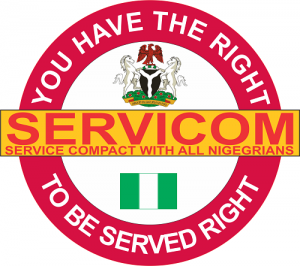 Episode 95 of the SERVICOM help desk Radio programme held on the 29th of October 2019, The National Coordinator /Chief Executive Officer of SERVICOM, Mrs Nnenna  Akajemeli appreciated brekete family and those rendering service. The Public Awareness Manager  Ms Patience Musa spoke about the service compact and engaged people in the studio by asking them what SERVICOM  is, Mr Tomos  Namur attempted in answering the question by saying ''to my own understanding, SERVICOM is an organisation  that is been established to ensure that Nigerians get better services''.
Miss Lauretta also attempted by saying '' it is Service Compact''. Ms Patience gave the answer as ''Service Compact with All Nigerians''. Ms Patience added that a compact is an agreement with somebody, it is something crispy. She said SERVICOM was born in 2004, it provision said '' we dedicate ourselves to providing the basic services to which citizen are entitled in a timely, honestly, effectively, fairly and transparent manner''.
These are the things that make up the Compact, when you enter the public service, you should know you have entered a compact signed by former President Obasanjo which says we dedicate ourselves to serve people timely. When people come to your office, don't see them as nuisance, attend to them in a timely manner.
As somebody that delivers service, we expect you to be Fair, treat everyone without favouritism, what is good for one is good for the other, it is important we treat people equally.  Honesty is key in service, SERVICOM has asked government agencies to come up service Charter which contains the promises of their services to the service taker; you are to ask what services are there for you. The service charter is expected to be implemented to the later in all Honesty.
On Effective service, the National Coordinator said NCAA should look into delayed and rescheduled flights, if its only one flight for a day customers should know in other to avoid disappointing them as this well subtract from their satisfaction level.  Without effectiveness, service delivery is zero said, Ms Patience added. Transparency is been open in delivering service, when there is no hidden cost and charges, it is transparency.
If we give services with the above mentioned provisions, customers will be satisfied. Effective service delivery leads to trust in government. In service delivery there is no excuse and that is the summary of the compact. The NC said it is the helplessness that Nigerians are suffering around service point that we are talking about so that they can improve. The NC added that the Comptroller General of immigration has given out a toll –free line and asked that it be pasted at visible point at the airport.
The Public Awareness Manager gave an update of a complainant  Hajiya Rabiyat  Bakori  who wrote to appreciate the SERVICOM office after her late husband's benefit was paid and urged complainants to write to the office when there complainant are resolved.
https://servicom.gov.ng/wp-content/uploads/2020/03/reduced-LOGO-1-300x266.png
266
300
servicom
https://servicom.gov.ng/wp-content/uploads/2020/03/reduced-LOGO-1-300x266.png
servicom
2020-03-02 13:34:50
2020-03-02 13:34:50
Highlight of Episode 95 of the SERVICOM Help Desk Radio Programme.