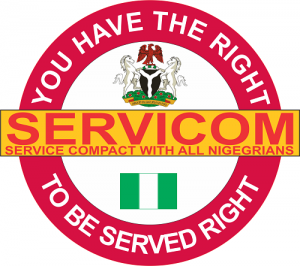 Episode 90 of the SERVICOM help desk Radio programme held on the 24th September 2019 and featured the representatives of the Nigerian Communications Commission (NCC) The National Coordinator /Chief Executive Officer of SERVICOM, Mrs Nnenna  Akajemeli appreciated those rendering service in MDA's as well as the  Ordinary President and those touching lives by the quality of services they render, the various heads in MDA's, the SGF. She thanked the Human Right Radio for the platform.
Representative of the Chairman of NCC  Alhaji  Ismail  Adeduga, began by saying that the chairman of NCC  is not only very conscious of customers but also  sees all staff of the Commission as  customers as they do not have a special network and they experience the network challenges others experience.
Bashir Bello, Head, legislative and Government relations NCC. Mrs Latayak Nuhu, desk officer SERVICOM all accompanied the representative of the chairman.
He said NCC was established in 1992 and became fully operational in 2001 by registering network service providers. According to him "NCC was established to make sure we communicate with each other easily and to ensure private companies come in and invest and create employment opportunity for the citizens.
Alhaji Ismail added that one of the rights of telecom service providers is to have Licences, to establish companies, to sell their products, advertise products and provide telecommunication services.
He noted on the other hand that customers/consumers have the right to complain about any service they are not comfortable with, explaining that  NCC has Consumer Affair Bureau  to take care of consumers' complaints.
He said the Commission attached great importance to Consumer education and has provided means through which consumers can complain. the telecom companies are compelled to listing to your complaint if they don't , call NCC on 622 toll free line from 8am- 8pm which is NCC complaint centre.
The NC said we appreciated SERVICOM for bringing NCC thereby touching lives and advised citizens to bring their complaint to the table. Alhaji Ismailhil urged SERVICOM to next time bring both service operators so as to hear the complaints of customers.
https://servicom.gov.ng/wp-content/uploads/2020/03/reduced-LOGO-1-300x266.png
266
300
servicom
https://servicom.gov.ng/wp-content/uploads/2020/03/reduced-LOGO-1-300x266.png
servicom
2020-03-02 13:21:05
2020-03-02 13:21:05
Highlight of Episode 90 of the SERVICOM Help Desk Radio Programme.