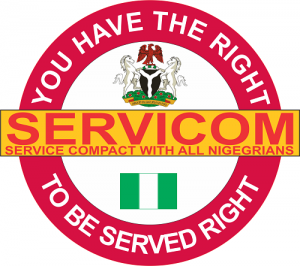 The Episode 110 of the SERVICOM help desk Radio programme held on the 18th of February 2020. The National Coordinator/Chief Executive of SERVICOM, Mrs Nnenna Akajemeli appreciated the Ordinary President and the Brekete Family and said they are happy to be in the studio. She thanked those rendering services and said those struggling with services should improve. She thanked those bringing positive energy to service delivery.
The Public Awareness Manager, Mrs Henrietta Okokon spoke on Communication Strategies for SERVICOM Office, "one of our mandates is to heighten citizens' awareness on quality service delivery in Nigeria. The aim of this strategy is to engage Nigerians across board, we want to ensure we render citizens-centred service delivery to Nigerians and foster a robust collaboration with the Media and the public in other to correct systemic failure in our society", she said.
She stated that part of SERVICOM's strategy is the use of Social Media platforms; "our Facebook is now more interactive, we now stream our events live when the National Coordinator attends any function.  We have our Twitter handle, Instagram and our official website. These platforms will engage citizens and strengthen synergy between SERVICOM and it public. We have bulk SMS's that we send out as at when due for information dissemination so as to get feedbacks for easy reach".
She further stated that SERVICOM also monitors news and reviews daily Media to see where services have failed and engages Team Leaders to look into the issue and come up with strategies for intervention. "This is how we can curb service failure in Nigeria". She ended by saying that SERVICOM Office also makes use of the conventional media such as the Brekete Family Radio Programme that has given the office a wider reach, hence making people to commend the National Coordinator and SERVICOM Office for a job well done on this platform and she appreciated the Family.
Mrs. Henrietta intimated her listeners that the National Coordinator will be having special media appearances whenever the office is to have major programmes, events or functions, she will inform Nigerians even through the Brekete Family of upcoming events then give progress reports and updates on success stories of the office. She added that plans are on ground to visit our various MDA's and use this medium to appeal to them not to be afraid when they are invited to Brekete Family programme; she said the aim of SERVICOM Help Desk Programme is to help them showcase their products and tell Nigerians the kind of services they render.
The visits, Mrs. Henrietta said will create synergy between SERVICOM and MDA's and serve as a check on their level of compliance to Service Charter by the CEO's and check their conformity with service excellence, integrity, accountability, efficiency and commitment to service delivery. She added that SERVICOM will be producing Jingles in different Nigerian languages and this will give us wider reach to the grassroots and to create awareness on our mandate for citizens to know their right to demand for quality service.
We will be doing road shows and having town hall meetings in order for people to tell us where services have failed so as to reach out to the MDA's concerned and brings quality services to them. She read out SERVICOM's social Media handles and Phone numbers in order to help Citizens reach out to the office.
The National Coordinator responded to the issue of dirty Toilets in the Federal Secretariat and said it has been captured in the 2020 budget and will be fixed as soon as releases start. She stated that SERVICOM will be going round the Federal Secretariat with the Director, Federal Capital Territory Administration's (FCTA's) SERVICOM's Nodal Officer to remove non-functional Wall Clocks.
On the issue of broken down chairs and tables in offices, the National Coordinator said it is a call to do the simple things by removing all broken chairs and tables and, these are quick fixes. She promised to engage with FCTA to make sure all issues concerning the Federal Secretariat is taken care of.
Mr Tony Ochelebe appealed to complainant not to buy recharge cards for staff of the SERVICOM Office before their complaint is treated. The National Coordinator added that all services have been paid for; hence people should not tempt the staff of SERVICOM. Mr Tony gave feedbacks on some complaints resolved by SERVICOM such as the case of Mr Saidu, who was mishandled by  the Nigerian immigration Service, Katsina Command,   Mr Okeke  who complained of delays by Michael Okpara University Umudike in  sending his wife's transcript to the University of Nigeria and Mr Matthew who complained of none payment of monthly pension by PTAD.
The National Coordinator further talked about flight delays and said she will be engaging with NCAA and FAAN in a retreat to bring a lasting solution to it. She advised citizens that if complaints are unresolved, they should be escalated to SERVICOM so that the phone calls the office gets will not only be complaints but commendations and feedbacks
https://servicom.gov.ng/wp-content/uploads/2020/03/reduced-LOGO-1-300x266.png
266
300
servicom
https://servicom.gov.ng/wp-content/uploads/2020/03/reduced-LOGO-1-300x266.png
servicom
2020-03-03 08:53:15
2020-03-03 09:01:54
Highlight of Episode 110 of the SERVICOM Help Desk Radio Programme