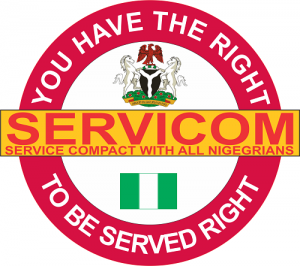 The Episode 105 of the SERVICOM help desk Radio programme held on the 21st of January 2020. The National Coordinator /Chief Executive of SERVICOM, Mrs Nnenna  Akajemeli, appreciated the Ordinary President and the  Brekete  family and said there have been good feedback from last week's  programme and Federal Housing Authority has promised to wprk grey areas highlighted during that will lead to improvement in their services . The Public Awareness Manager, Mrs Henrietta Okokon, Mrs Madinatu  Mohammed  and  Mr Tony were with the NC in the Studio.
Mrs Madinatu  Mohammed,  an Operation Staff in Team D gave a brief talk on how to Challenge Service Failure in MDA's.  We have a slogan in SERVICOM which says ''you have the right to be served right'' and also to complain about service failure she said. When you are not getting the right service, you complain. We have a grievance redress mechanism which all MDA's are supposed to use to address service failure.
When the right service is not giving and customers are been interrogated and not allowed to talk, they will complain. Complainants can register their complaint through writing, phone calls, Emails, Physically, post office, complaint Box which is supposed to be checked always to analyse the complaint. Another means is called SERVICOM Customer Relation Activities Register (SCRAR) where you can register your complaint but it is mostly used by MDA's. When all this avenues are explored without result, you can now come to SERVICOM office, the complaint can be taken up by the National Coordinator.
When a customer comes to complain, you welcome him, pay attention to his complaint and apologies for the service failure then proffer solution because the customer is the King, we need to treat them rightly and we all have to stand up for our right. Mrs Madinatu added that when you are not getting the right services please ask and SERVICOM will be there for you.
The NC said she receive calls from parents that they are sometimes asked to pay for items in schools which are said to be free and receipt will not be issued. Don't just walk out when you are not satisfied with the  service, engage the service provider so that he will know the government put him there to provide that service, in that way we hold them more accountable and they will know our eyes are on them.
https://servicom.gov.ng/wp-content/uploads/2020/03/reduced-LOGO-1-300x266.png
266
300
servicom
https://servicom.gov.ng/wp-content/uploads/2020/03/reduced-LOGO-1-300x266.png
servicom
2020-03-02 15:22:19
2020-03-02 15:22:19
Highlight of Episode 105 of the SERVICOM Help Desk Radio Programme