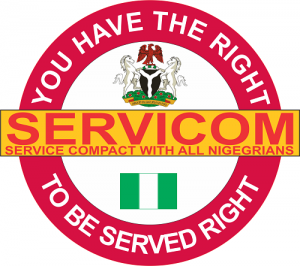 Episode 104 of the SERVICOM help desk Radio programme held on the 14th January  2020 been the first for the new  year  and had Federal Housing Authority (FHA) as the guest , The National Coordinator /Chief Executive SERVICOM, Mrs Nnenna Akajemeli  and the new Public Awareness Manager, Mrs Henrietta Okokon  accompanied by Mr Tony Ochelebe where in the  studio.
The NC appreciated Brekete family, the Ordinary President and everyone in the studio and said the New Year will be better for all of us. We do not take this platform for granted, we will be rendering better services to everybody through the MDA's and we will improve. We have come with renewed energy and strength and positive mind to surpass what we did last year, the NC added. She appreciated those given better service in the MDA's and appealed to those not given to begin to render services.
Part of the reasons we come here is to encourage more people to come to the positive side so as to have the majority rendering service that will make our country better. We let out information and provide opportunity to give those rendering service more accountable in MDA's because we are all entitled to have good services constitutional. We help engage service providers with service takers and the bottom line is to get quality services from early this year, the NC said.
Mrs Sarah Ogiefa, General Manager Property Management, Mr Humphrey Ukeh, Deputy GM, Strategy, SERVICOM and anti-corruption unit and Mrs Joan Nwankwo, Chief SERVICOM officer came as guest and representatives from Federal Housing Authority. Mrs Sarah said FHA was established in 1973 to build houses for all Nigerians in all the state of the federation, we provide infrastructure which is site and services PIN, we allocate and give prototype design for the houses to be in uniform.
The government has empowered us to consider the low income group in the society but have to provide special fund for us to be able to do that for Nigerians, Mrs Sarah said. Thegovernment carters for all strata, the low, middle and high income group in the society. We have put in place big plans for new projects that will come up 2020 in Kwali, Bwari and Zuba which is almost completed and open for Nigerians to buy at reasonable prices, she added.
We also have plans for those in the diasporal, there is a site in Kabusu behind Maitama were we are erecting structures for them. We have projects in other states and 6 Geopolitical Zones of the Federation. Mr Innocent asked why the houses are been sold to the Rich instead of the Poor? Mrs Sarah replied that FHA builds for all income categories; the one inZuba is on sale presently.
For a low income earner to have a house, we have a primary Mortgage bank called FHA Mortgage bankwhere they can open account and startcontribution and be paying little by little, they will give you a loan by paying for your house and the bank will do a repayment package plan for you on how to pay back, Mrs Sarah said.
Barrister Ogor asked if the houses can be given without collateral. Mrs Sarah said it have to be from your salary, when you meet the bank they will tell you how to go about. Mr Hunphery of FHA said when you collect loan bellow 5million you don't need collatrial based on Federal Mortgage Bank regulations. Mr Edward said he applied for a house in 1994 and paid some money up till date no house. Mrs Sarah said he can apply for a refund with his evidence of payment or choose another House.
Emmanuel Babayaro said he is disappointed with the presentation; FHA should have broken down the process for a common man to understand how to pay 5million for a one bedroom flat. Mrs Olufumiabbas commended FHA and said her parents got their first House through them, the rich are buying many of the houses, how can a common man get it, we need information.
Fatima Idris called in and said ''we have been contributing for 20years, our money is deducted from source yet no house''.  Mrs Sarah, said it is FMBN that should handle that but you can go to any other primary mortgage institution show them you passbook, they will calculate what you have paid and they will help you get the difference. We now have Rent to Own programme in progress, when we are done, people can access it and pay beat by beat.
Mr Hunphry said they have heard what have been said and will do something about it. He said there mandate is to build houses, in 1988 the Government began to commercialise FHA, in 2003 we were removed from the Budget, what you see us do is from our IGR, but four years ago our management pleaded with the National Assembly and we were giving some funds which we used in building in Zuba.
The finally appreciated FHA coming and said all issue and concerns raised will be processed and feedback will be given to the citizens.
https://servicom.gov.ng/wp-content/uploads/2020/03/reduced-LOGO-1-300x266.png
266
300
servicom
https://servicom.gov.ng/wp-content/uploads/2020/03/reduced-LOGO-1-300x266.png
servicom
2020-03-02 15:11:53
2020-03-02 15:11:53
Highlight of Episode 104 of the SERVICOM Help Desk Radio Programme