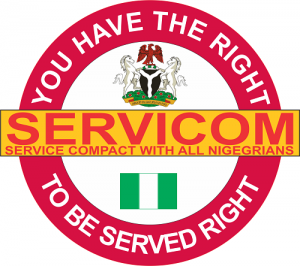 The Episode 171 of the SERVICOM help desk Radio programme held on the 22nd of March 2022, the National Coordinator, Mrs Nnenna  Akajemeli  and  Mr Tony  Ochelebe  of  the Public Awareness Unit where in the studio and came along with officers from the Federal Medical Centre Jabi – Abuja. The NC appreciated the Ordinary President and said we collaborate with FMC Jabi to make sure services serve the people as they have embraced innovation and turn around in their service delivery processes.
Dr. Maji Christopher, Nodal Officer SERVICOM FMC Abuja and Nurse Ijeoma Ewu, secretary of SERVICOM FMC Jabi enlightened the public on the improvement in the Hospital. Dr. Christopher said the New Medical Director has come up with a new Mission and Vision statement for the Hospital targeted at making the Hospital a World class Hospital that renders quality service through Team work using cutting edge technology to enhance research and training for effective service delivery.
Federal Medical Centre Jabi – Abuja is a public tertiary Hospital and is building a brand were quality service is guaranteed and to discourage Medical tourism, we now offer a world class service and we were able to do an Open Heart Surgery for a patient that was supposed to travel abroad for the procedure and she has been discharged, the Minister of state Dr. Sen. Mamora had to come and see the patient himself, Dr. Maji Christopher said.
The Hospital through the M.D Prof. Sa'ad  Ahamed  now has a Medical Indigent Fund supported by stakeholders and well spirited individuals to asset poor persons who do not have the resources to care for themselves and we a social welfare unit  to access their status,  Dr. Christopher added.
You can contact us through  this mediums: – 08028264700. Servicomfmcabuja@gmail.com
There were no emerging issues for SERVICOM  to attend to
Mrs Henrietta Okokon
Public Awareness Manager.
https://servicom.gov.ng/wp-content/uploads/2021/09/reduced-LOGO-1-300x266-1.png
266
300
Mfon Iniunam
https://servicom.gov.ng/wp-content/uploads/2020/03/reduced-LOGO-1-300x266.png
Mfon Iniunam
2022-05-16 11:02:31
2022-05-16 11:02:31
Highlight and Matters arising from Episode 171 of the SERVICOM Help Desk Radio Programme.