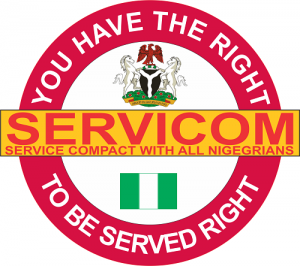 The Episode 137 of the SERVICOM help desk Radio programme held on the 18th of May 2021,Mrs  Ngozi Akinbodewa, a Team Leader  in the Operations  Unit and  Mr Tony  Ochelebe  of  the Public Awareness Unit  where in the Studio to discuss effective service delivery issues with Nigerians.
Mrs Ngozi spoke on Effective Complaints Handling and its Impact on the life of the Citizens  and said people have been walking away from Brekete Family happy because their complaint are been resolve and that is what we want to see in SERVICOM office. Complaints comes in a way to help service providers improve on their services, do not see complainants as problematic but critical friends that are given you free consultancy she said.
When you satisfy a complainant, you have found for yourself a loyal friend for life, a customer can go out and tell about a hundred people when their  complaints are resolved, therefore we in the  SERVICOM office are happy when complaint are resolved because it will lead to a better Nigeria.
There was no emerging  issues  for SERVICOM to handle or attend to.
https://servicom.gov.ng/wp-content/uploads/2021/09/reduced-LOGO-1-300x266-1.png
266
300
Mfon Iniunam
https://servicom.gov.ng/wp-content/uploads/2020/03/reduced-LOGO-1-300x266.png
Mfon Iniunam
2021-10-12 12:40:15
2021-10-12 12:40:15
Highlight and Matters arising from Episode 137 of the SERVICOM Help Desk Radio Programme.