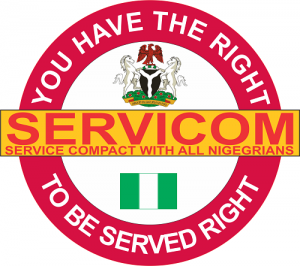 The Episode 133 of the SERVICOM Help desk Radio Programme held on the 20th of April 2021. The  National Coordinator/Chief Executive of SERVICOM, Mrs  Nnenna  Akajemeli  accompanied by the  Public  Awareness  Manager  Mrs Henrietta  Okokon  and Mr Ben Olofu  of the Operations Unit where in the studio. She thanked the Ordinary President for remaining a worthy Nigerian through the services he renders and the lives he touches. Mr Ben spoke on; How to Close Service  Delivery  Gaps in other to Drive Service Improvement in Ministries  Department and Agencies'  which is a continuation of last week's  topic .
Service delivery gaps are the differences between what is contained in a service charter and the actual service rendered, it's also a failure to meet customer's expectation as contained in their service charter, Mr Ben said. A policy statement of what an organisation does is called a service charter, therefore there are lots of expectation by customers and when it's not met, we consider it as a Gap in the servicer delivery process, he added
Gaps can be identified through feedback mechanism, evaluations  by experts  and complaints  from customers, unfortunately most MDA's don't have time for this complaints and reporting system, its only when this is done that the identified Gaps can be closed, Mr Ben therefore pleaded with MDA's  to listen to customers complaint in other to identify the service delivery Gaps and treat the customers as Kings.
The NC added that the various gaps are evidences that the needs and expectations of the customers have not been met, it is therefore important for service providers to position themselves to attend to customers by reviewing their processes, the customers will come to give a feedback when they are satisfied with the service.  She advised  Customers  to complain and  use platforms like; social media, phone calls and  physical contact so that services can improve, she concluded that service givers should make their processes accessible for receiving  services.
There were no emerging  issues  for  SERVICOM  Office to handle.
Henrietta Okokon (Mrs)
Public Awareness Manager.
https://servicom.gov.ng/wp-content/uploads/2020/03/reduced-LOGO-1-300x266.png
266
300
servicom
https://servicom.gov.ng/wp-content/uploads/2020/03/reduced-LOGO-1-300x266.png
servicom
2021-06-13 20:55:01
2021-06-13 20:55:01
Highlight and Matters arising from Episode 133 of the SERVICOM Help Desk Radio Programme.