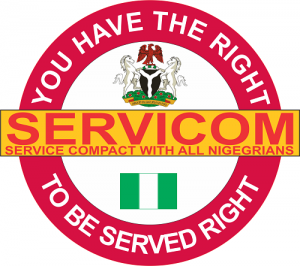 The Episode 130 of the SERVICOM Help desk Radio Programme held on the 30th of March 2021 the had Securities and Exchange Commission (SEC) as it's guest. The National Coordinator/Chief Executive of SERVICOM, Mrs Nnenna  Akajemeli  and Mr Tony Ochelebe where in the  studio, the National Coordinator  appreciated Consultant IKe and  Barrister Pamela for doing a good job and also extended her warm regards to the Ordinary President and the entire  Brekete  Family and said the partnership and collaboration has brought results to the service delivery processes of the Government  and citizens are now aware of their right.
Mrs Oga Agatha, SERVICOM SEC  Nodal  Officer  and  Mrs Stella Adateme came as SEC representatives, Mrs Stella said the Commission has an Investment and Security Act of 2007 with aim of protecting  investors and to having a level playing field in the capital market and to guard against systemic risk, we also have a Capital Market Master Plan to assist in Complaint  Management and improve on our monitoring.
Complaints can be channelled to the Company and to the Commission, she added. A department known as market relations has been set up in the Commission to look into complaints from investors and we can be reached through our Social Media Handle as follows: Twitter: @secnigeria, @sec.gov.ng, PMB 315 Garki – Abuja, the office address is at Central Business District Abuja, facebook: securitiesandexchangecommissionnigeria , Email: sec@sec.gov.ng, 094621168, www.sec.gov.ng, she advised citizens to call or check their website if a company is registered before venturing into any investment business to avoid unpleasant  stories at the long run.
The NC promised to interface with NDIC, Immigrations and Diaspora Commission based on some complaints raised.
Henrietta Okokon (Mrs)
Public Awareness Manager.
https://servicom.gov.ng/wp-content/uploads/2020/03/reduced-LOGO-1-300x266.png
266
300
servicom
https://servicom.gov.ng/wp-content/uploads/2020/03/reduced-LOGO-1-300x266.png
servicom
2021-06-13 20:18:52
2021-06-13 20:18:52
Highlight and Matters arising from Episode 130 of the SERVICOM Help Desk Radio Programme.