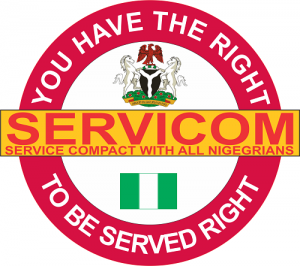 The Episode 129 of the SERVICOM Help desk Radio Programme held on the 23rd of March 2021. The National Coordinator/Chief Executive of SERVICOM,  Mrs  Nnenna  Akajemeli , the Public Awareness  Manager, Mrs Henrietta  Okokon  and  Mrs Nneka Ole were present in the studio, the National Coordinator extended her warm regards to the Ordinary President and entire  Brekete  Family and said Promoting Accountability in Ministries  Department  and Agencies was the Topic for the day.
Mrs Nneka  spoke extensibly  on the above topic and said SERVICOM is a social contract between the Federal Government and Nigerian Citizens  therefore all MDA's are accountable to their core customers, the core components that drive service delivery are;  1. Service  delivery, 2. Timeliness,  3. Information  dissemination,  4. Professionalism, 5. Staff attitude, it is the responsibility staff to carry this out, accountability is therefore how staff of an office carry out their responsibility without inducement , pleading or prompting to the best of his ability or recognising his responsibility.
The fear of failure, unclear expectations, lack of engagements  also make people to run away from accountability hence having a vision statement will help the organisation gain the desired result, Mrs Nneka  said. Organisations can further engage  their  staff  through  meetings  discussions thereby making it easy to share responsibility and be accountable for work done. Accountability brings about trust and learning from our mistakes helps the organisation and the country to grow, she added.
Involving employees in goal setting also help the organisation irrespective of the grade level and having a  clear  and  measurable  expectation  helps  in  accountability, Mrs Nneka said. Resources also play a vital role either  human, capital or technological as this will help drive service delivery in that organisation. Mrs Nneka appealed to the Nigerian Police to let information to the public concerning some of their officers who's benefits are pending to avoid doubts and speculations acknowledging the fact that every organisation has it own challenges.
Part of being accountable means taking ownership, the National Coordinator said as this will help the customers understand  were your challenges are there by building trust and improvement in the service delivery processes of  the Nigerian Police.
There were no emerging issues needing  SERVICOM's  attention
Henrietta Okokon (Mrs)
Public Awareness Manager.
https://servicom.gov.ng/wp-content/uploads/2020/03/reduced-LOGO-1-300x266.png
266
300
servicom
https://servicom.gov.ng/wp-content/uploads/2020/03/reduced-LOGO-1-300x266.png
servicom
2021-06-13 20:17:50
2021-06-13 20:17:50
Highlight and Matters arising from Episode 129 of the SERVICOM Help Desk Radio Programme.