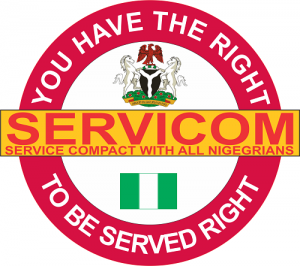 The Episode 127 of the SERVICOM Help desk Radio Programme held on the 9th of March 2021. The National Coordinator/Chief Executive of SERVICOM, Mrs  Nnenna  Akajemeli  and  the Public Awareness Manager, Mrs Henrietta  Okokon  accompanied by  Mrs Kikelomo Aina of the Operations Unit in Team A  were in the studio, the  NC lent her voice with that of the Ordinary President to celebrate Women across the world as Nigerians  joined in celebrating International Women's Day, women should be treated with dignity and prayed for the Ordinary President that as he celebrates women and mothers, heaven will celebrate him.
She further commended Women that makes sacrifices from Pregnancy  to taking care of the Children and especially the woman that used her wrapper to hold her child's Intestine in his critical health condition, the Federal Ministry of Women Affairs  and Social Development, the First lady, the V.P's Wife and the Ordinary President that also celebrates women and Mothers, she also encouraged women to do the right thing and excel in their various fields of endeavour and get to a greater height.
The NC appreciated the Ordinary President and said we do not take for granted all the support we have been getting in moving SERVICOM forward, the various MDA's and service providers and said improvement are been noticed, she asked that more be done and they be sensitive to what stakeholders and customers are experiencing in the various service windows.
If we come together with different synergy and effort, services will be better but if we walk away service failure will continue the NC said. Strategies for improving customer satisfaction in MDA's was the topic of the day,  Mrs Kikelomo Aina said we see service satisfaction as how MDA's exceed the expectation of their customers as spelt out in their service charters because each customer goes out with expectations every day. All MDA's are expected to have their service charter in place and work with the standard spelt out in it.
Information is key to access the same level of service by customers , the NC said, service charter helps for transparency as customers will not be short changed and the money that is meant for Government get to them, it also add value to the system thereby making MDA's accountable which will give birth to positive stories, the NC added.
Most MDA's have charters but are implementing it, we call on to start implementing those standards set in their service charter, Mrs Kikelomo said. Reviewing of time frame and having additional Doctors is important to reduce waiting time of patience in the Hospital, engaging of stakeholders is crucial in order to harvest feedback from customers to know if they have been served well and improve on other areas since every office is established to serve a particular group of people, She added.
Staff training is key on how to handle their customers in MDA's, Mrs Kikelomo said. The NC said customers are important in every service window because they are the real reason with we collect salaries as without them that office will be closed. MDA's can come up with different ways of collating and harvesting feedbacks like their website, surveys, questionnaires, comment cards, all in a bid to improve customer service, Mrs Kikelomo said.
We encourage MDA's to drive towards improving their services with the aim of putting smiles on the face of the customer thereby adding value and trust to the system, the NC added.
There were no emerging issues needing SERVICOM's attention
Mrs Henrietta Okokon
Public Awareness Manager.
https://servicom.gov.ng/wp-content/uploads/2020/03/reduced-LOGO-1-300x266.png
266
300
servicom
https://servicom.gov.ng/wp-content/uploads/2020/03/reduced-LOGO-1-300x266.png
servicom
2021-06-13 20:12:36
2021-06-13 20:12:36
Highlight and Matters arising from Episode 127 of the SERVICOM Help Desk Radio Programme.