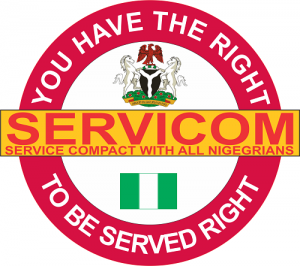 The Episode 125 of the SERVICOM Help desk Radio Programme held on the 23rd of February 2021 and featured for the third time the team from the Department of Petroleum Resources (DPR). The National Coordinator/Chief Executive of SERVICOM, Mrs  Nnenna  Akajemeli  and  the public Awareness Manager, Mrs Henrietta  Okokon were in the studio, the  NC thanked Brekete Family for the support and collaboration in enhancing service delivery and said we have been bringing different MDA,s and connecting service providers with service takers with  the aim of improving service delivery.
Mr Abubakar Lawan,SERVICOM unit,  Aminu Kamau, Biliaminu Abubakar, Mrs Adachi Azuonyekwere came as representatives from DPR.  Mr, Aminu said the Federal Government has given DPR a mandate to issue Permit, Approval and Licence to any activity in the Oil and Gas which ranges from Upstream, Midstream and Downstream service providers.  We give this licences to Upstream like Shell, Chevron, Fuel stations and even NNPC in other to enable their businesses, he added.
Anything you want to do in the Oil and Gas sector, you must get DPR clearance or permit which are of three different categories, 1.General Permit which can be gotten within 24hours for  5,000, 2. Major category for 25,000 for the middle class and 3. Specialise category for higher level service providers like drilling, waste management, high fumigation, Mr Aminu added.  Permits are for one year while licences are for 2-5 years and if the Federal Government observes any issue in the Oil and Gas sector, the first point of contact is DPR to know if they have Permit or Licences to operate.
We have now moved from Manual to automated system of service which serves over 200,000000 Nigerians, Mr Aminu added.  You can now apply for licence or permit from the comfort of your home via our online platform; all you need to do is to scan upload and send, before now, the manual system takes between 3-4 months which can affect service delivery processes. We launched an automated system to monitor stations or depots across the country which are over 25,000 outlets and over 100 depots, with this each station will give us their daily and closing stock which we can see online.
Mr Aminu added that a short code has also been introduced in case someone is not having internet services, you can dial *7117 #. DPR generate funds for the Federal Government through Licences, Permit registration and bidding processes which are all done online, even our internal activities are online since we have 32 offices nationwide to ease stress, save cost and time.
You can visit our website www.dpr.gov.ng  for more information and as time goes on each station will have a unique ID in other to use and submit any issue or complaint concerning their station, Mr Aminu said. Citizens will have a code to dial to know nearest station that has Fuel, Gas or Diesel because it will be linked to our data base and with the automation you can also get your License or Permit by going through their own  portal, Mr Aminu concluded.
Below  are some emerging  issues  for SERVICOM to attend to.
S/N
COMPLAINANT
ISSUE
REMARKS
RESPONSIBILTY
1.
Mr Gomin  Ayuba
Non-payment of benefit
SERVICOM Office to follow up and engage relevant  authorities
N.C

HOPs

Team C

2.
Nanfa Damien(a Police officer)
Incomplete payment by PTAD
SERVICOM Office to engage PTAD.
N.C

HOPs

Team D
Henrietta Okokon (Mrs)
Public Awareness Manager.
https://servicom.gov.ng/wp-content/uploads/2020/03/reduced-LOGO-1-300x266.png
266
300
servicom
https://servicom.gov.ng/wp-content/uploads/2020/03/reduced-LOGO-1-300x266.png
servicom
2021-06-09 04:33:04
2021-06-09 04:33:04
Highlight and Matters arising from Episode 125 of the SERVICOM Help Desk Radio Programme.