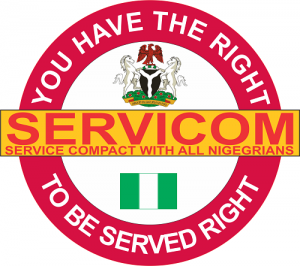 The Episode 123 of the SERVICOM help desk Radio programme held on the 9th of February 2021 and featured the team from  Department of Petroleum Resources (DPR) , The National Coordinator/Chief Executive of SERVICOM, Mrs  Nnenna  Akajemeli  and  the public Awareness Manager, Mrs Henrietta  Okokon   where in the Studio to enlighten Nigerians on the service delivery process of DPR.
The N.C appreciated everyone for their support in making service delivery work and the service providers for providing services especially in this COVID-19 period, she acknowledged the front line staff in various hospitals for their effort , the service takers, the SGF and his team that oversees  the SERVICOM office, the Management and staff of SERVICOM office for the support and said the essence of the Help Desk Programme is to engage service providers and servicers takers in order to bring a change in the service delivery processes in the Country.
The representatives from DPR, Mrs Magdalene Osode, Nodal Officer and Mr Mohammed Indalaman from the Downstream sector spoke on some of the duties they perform, Mr Mohammed said that DPR makes money for the country by enable businesses in oil and gas sector of the country to strive through issuance of  licences and permits so that this companies can engage the youths to work and by so doing make more money for the Country.
Mr Mohammed further said they work in collaboration with other Agencies to make sure petrol tankers are in a good state before plying the roads to avoid accidents and damages on our roads. Mrs Osode encouraged  the youths to come into oil and gas businesses as there are lots of opportunity to harness in the sector and said they can be reached online due to COVID-19, she added that youths can get permit to set up domestic gas stations, we also supervise setting up and handling of the equipment to avoid fire outbreak advise appropriately.
We regulate the up, down and mid-stream sector of the oil and gas activities Mr Mohammed  said, Mrs Osode gave out their contact numbers which are 09013331111,09062022009,09087777765. We charge a fine of 100,000 per pump of any fuel station that under-deliver and it also depends on the severity of the offence, Mr Mohammed said. Most of the thick smoke experienced in port Harcourt is as a result of gas flaring which the government is now trying to look into it and companies are also trying to come in to help convert it to other products like fertilizers.
Mr Mohammed added that checks are being carried out on petroleum products before they are discharged to ascertain the quality, we have about 32 field offices in different states just in case there are complaints especially in this COVID-19 era.
There were no issues for SERVICOM office to attend to
Henrietta Okokon (Mrs)
Public Awareness Manager.
https://servicom.gov.ng/wp-content/uploads/2020/03/reduced-LOGO-1-300x266.png
266
300
servicom
https://servicom.gov.ng/wp-content/uploads/2020/03/reduced-LOGO-1-300x266.png
servicom
2021-06-09 04:23:17
2021-06-09 04:23:17
Highlight and Matters arising from Episode 123 of the SERVICOM Help Desk Radio Programme.