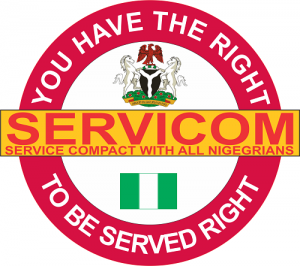 The Episode 121 of the SERVICOM help desk Radio programme held   on the 1st of Decemberber 2020, The National Coordinator /Chief Executive of SERVICOM, Mrs Nnenna Akajemeli, appreciated the Ordinary  President  and  the Brekete family for the partnership we have had and said it has helped our work and caused many MDA's to improve based on the feedbacks we get from the programme.
The Public Awareness Manager Mrs Henrietta Okokon spoke on the topic Identifying Service Delivery Gaps and  Promoting  Improvement  Through Effective Feedback Mechanism and said service delivery gaps are the differences in what you have in your service charters and the services you actually render, it is also failure to meet customers' expectations. She further added that service delivery gaps is the distance between customers expectation and what the service providers think the customers should expect.
We can close this gaps through simple surveys by finding out  what the service providers promised is actually fulfilled, she said. We do Mystery Shopping to check this services, Management perception, Experience Specification also affect service delivery. Information is also very key, MDA's should therefore give information that will assist the customers to get services easily, this can be done by having a simple and readable Charter, she added.
Mrs Henrietta said one of the ways of identifying services delivery gaps is by getting proper feedbacks which is a response to services rendered, data gathering, independent surveys, established call centres, suggestion boxes, social media platform, evaluations, mystery shopping, complaints from the public and consultations with stakeholders.
There were no emerging issues for SERVICOM to attend to.
Mrs Henrietta Okokon
Public Awareness Manager.
https://servicom.gov.ng/wp-content/uploads/2020/03/reduced-LOGO-1-300x266.png
266
300
servicom
https://servicom.gov.ng/wp-content/uploads/2020/03/reduced-LOGO-1-300x266.png
servicom
2021-06-09 04:20:04
2021-06-09 04:20:04
Highlight and Matters arising from Episode 121 of the SERVICOM Help Desk Radio Programme.