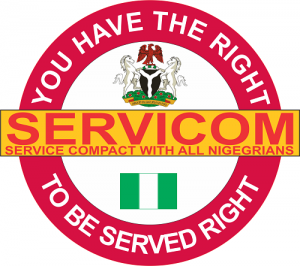 The Episode 120 of the SERVICOM help desk Radio programme held on the 24th of November 2020, The National Coordinator/Chief Executive of SERVICOM, Mrs Nnenna  Akajemeli  and  the public Awareness Manager, Mrs Henrietta Okokon where in the studio to enlighten Nigerian on their rights to be served right.
The NC said that the essence of this help desk programme is to see how services will improve and used the medium to appreciate service providers in MDA's. Entrenching the culture of accountability was the topic of the day, when you are responsible and take responsibility of work, decisions and actions committed to your hands that is accountability. Service providers are to give services and information to customer in a timely, fair, efficient, transparent and honest manner.
SERVICOM office has positioned itself with a tool called Service Charter, the organisation should clearly spell out what and how to attend to customers so as to be held accountable when services fails in schools, hospital and other service providing Agencies. The essence of this talk is to make sure you are doing what the government  have set up your organisations to do since their decisions  will either affect them positively or negatively, the NC said.
We are yearning to see the education sector improve in Nigeria at all levels and when this happens, more lives will be touched and will have better graduates,Mrs Akajemeli said. Our aim is for services to improve and for complaints to reduce by monitoring compliances at all stages of service provision, she added.
Mrs Akajemile said ''as service providers, we are called to live a legacy and positive marks to touch the lives of the people when we render to them timely and quality services they deserve'', and  as customers, we have very high responsibility of holding service providers accountable when they don't serve us well.
They were no emerging issues needing SERVICOM  intervention.
Mrs Henrietta Okokon
Public Awareness Manager.
https://servicom.gov.ng/wp-content/uploads/2020/03/reduced-LOGO-1-300x266.png
266
300
servicom
https://servicom.gov.ng/wp-content/uploads/2020/03/reduced-LOGO-1-300x266.png
servicom
2021-06-09 04:09:16
2021-06-09 04:09:16
Highlight and Matters arising from Episode 120 of the SERVICOM Help Desk Radio Programme.