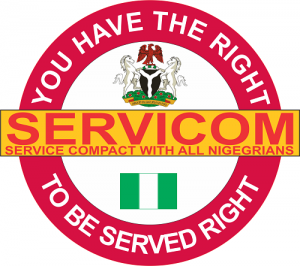 the Episode 119 of the SERVICOM help desk Radio programme held on the 3rd of November 2020, The National Coordinator/Chief Executive of SERVICOM, Mrs Nnenna  Akajemeli  and  the public Awareness Manager, Mrs Henrietta Okokon were in the studio to talk to Nigerians and let them know they have the right to be served right.
The NC responded to the demands by Nigerians on the need for SERVICOM to moved to states and said SERVICOM started with some states as pilot like Cross River to show the level it can work in states and we want  it to work in the Federal level, other states of the federation such as; Delta, Lagos, Kaduna were also used, we have also now selected 6 states under Open Government Partnership to replicate this same process to make quality services go down to all Ministries Department and Agencies(MDA's) in the states, she said.
We have already visited Nasarawa, remaining 5 more states, when we are done, we will expand to other states so as to have better services, when this is done the number of complaint from states coming here will drastically reduce and citizens can now hold their state government accountable. We have a period of 2 years to carry this out she added.
We are making plans to work with the Governors Forum to get this done and from there we get to the Local Government because services also takes place there, the NC said. There are lots of reforms going on in Pensions and we believe it can work so that the senior citizens can be taken care of when they retire, they should go the extra mile to make sure our senior citizens get quality service, it is working in other nations, we believe it can work here, the NC said.
The NC talked about importance of engagement  of citizens taking services from MDA's and making service delivery a national discourse, she added that; citizens or customers have the obligation to commend  better service and complain about service failures in places like police stations, hospitals and schools.
It is important for service providers to give accurate information about their services through their service charter so as to be held accountable and this information will be useful for both parties, the NC said. Nigerian Citizens have a right to quality service for which a particular agency is set up for and to demand for information where required, we are here to discourage walking away when a customer is not satisfied with services rendered to him, we advise you to challenge service failure in order to avoid a re-occurrence, she said.
Mrs Henrietta said the ultimate mission of SERVICOM is to support the promotion of service excellence in public service and using the ministerial SERVICOM unit's in MDA's. She added that customers can visit the various service points; it is when they are not satisfied with the services that they can now come to SERVICOM office or reach us through our various social media handles which she reached out.
There were no complaints needing SERVICOM's intervention.
Mrs Henrietta Okokon
Public Awareness Manager
https://servicom.gov.ng/wp-content/uploads/2020/03/reduced-LOGO-1-300x266.png
266
300
servicom
https://servicom.gov.ng/wp-content/uploads/2020/03/reduced-LOGO-1-300x266.png
servicom
2021-06-09 04:07:16
2021-06-09 04:07:16
Highlight and Matters arising from Episode 119 of the SERVICOM Help Desk Radio Programme.