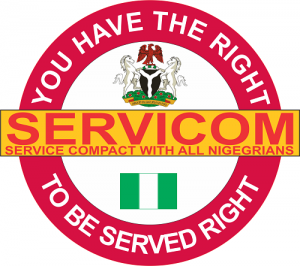 The Episode 118 of the SERVICOM help desk Radio programme held on the 27th of October 2020, The National Coordinator/Chief Executive of SERVICOM, Mrs Nnenna  Akajemeli  and  the public Awareness Manager, Mrs Henrietta okokon went to sensitized Nigerians on the importance of effective service delivery with Securities and Exchange Commission (SEC) as her guest.
The NC thanked the Ordinary President and Brekete family and used the medium to respond to a complaint in the studio and said ''when services fail, the resultant effect is complaint and people will be moving helter skelter, but when the right thing is done we will only hear positive testimonies''.
When people work well, they should be paid well and in good time, the NC said. SERVICOM office is a service delivery office and we work to facilitate service improvement in all Ministry, Department and Agencies and this MDA's should do their work because citizens are the recipients of those services. We also work to know the process MDA's have put in place to address service failure, she added.
The NC appealed to the NNPC in charge of providing fuel to make a re-assuring statement to the populace to avoid panic buying and settle whatever issue they have so that services can return to normal as this has had multiplier effect on the citizens some of which are office workers that may end up not going to work due to scarcity of the commodity.
The SERVICOM Office brought the Security and Exchange Commission to tell Nigerians what they actually do. Mr Effiok Effiok and Mrs Ogar Agatha, the Nodal officer SEC came as representatives. Mr Effiok said we are all product of fruits that came from our parents and life is all about bringing forth fruits, this means turning it to investment that can yield returns at the long run.
We oversee the entities that do this investment so that appropriate things can be done and nobody will be cheated, he said. We look out for companies that want to go into investment then we asses and register them and also monitor them, this comprises of stock brokers and asset managers, he added.
A company can decide to enlarge itself by selling shares and giving interest to shareholders, Government also raise funds through Bonds investment and pay interest at stipulated time. There are however fake investment outfit with Ponzi schemes that are out to dupe citizens that is why we ensure any company ready for business is duly registered by us, Mr Effiok said.
One of the ways to know a Ponzi scheme is that they promise to pay very high interest, people should ask question to know if they are registered with SEC, he said. We have pulled some of them out of the market and paid those that lost money through  investors protection fund. We have a collective investment scheme which is one of the safest for  everyone  managed  by professional  managers and registered with SEC, Mr Effiok said.
The funds are managed by trustees and they have a constitution which they have to follow, we also have custodians which are Banks, he said. You can reach us through the following platform: twitter: @secnigeria, facebook: sec@facebookpage. Phone number  094621168, 094621100
Below are some emerging issues for SERVICOM to attend to.
S/N
COMPLAINANT
ISSUE
REMARK
RESPONSIBILITY
1.
Son of late Customs Officer Adedeji  Kolamodiu
Non-payment of death benefit/pension
SERVICOM Office to follow up and engage Customs Office and see the Comptroller General
N.C

HOPs

Team D
Mrs Henrietta Okokon
Public Awareness Manager.
https://servicom.gov.ng/wp-content/uploads/2020/03/reduced-LOGO-1-300x266.png
266
300
servicom
https://servicom.gov.ng/wp-content/uploads/2020/03/reduced-LOGO-1-300x266.png
servicom
2021-06-09 04:04:35
2021-06-09 04:04:35
Highlight and Matters arising from Episode 118 of the SERVICOM Help Desk Radio Programme